Tennessee Titans Head Coach Mike Mularkey has been a citizen of Margaritaville for a long time. He grew up in Ft. Lauderdale where he was immersed in the flip flop and beach culture that is synonymous with the Florida coast and Jimmy Buffett records. He went on to play for the Florida Gators in college before making the leap to the NFL, playing for the Minnesota Vikings and Pittsburgh Steelers. Before the 2016 Titans season kicked off, Heikki had a chance to sit down and talk about the coach's Margaritaville state of mind…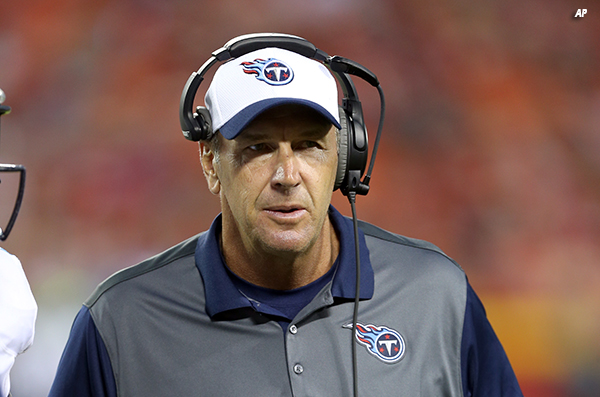 I arrived at Coach Mularkey's office to find him joined by ESPN analyst, Merril Hoge. The two are long time friends from their days with the Steelers and Hoge was visiting the head coach before training camp got crazy. I started to feel a little pressure at this point having someone from ESPN in the room (Hoge was working on some paper work, but sitting only a table a way he was going to hear everything). However, his presence quickly turned into welcome company as Hoge would later chime in with some rushing stats during the entertaining interview.
I started off the interview talking about music. Coach Mularkey is a country music fan, not hard now that he lives in Nashville. He's got his share of Buffett albums, but he says that his appreciation for the beach and Buffett came after college when he was playing in Minnesota and Pittsburgh. He laughs, knowing the subzero temperatures helped him understand the attraction of sunshine and the ocean.
We cover game day scheduling, team travel, scripted plays and how he keeps things fun for his players so the grueling season doesn't beat them down. There's a lot of work to put your favorite team on the field and I learned so much of a coach's day can be occupied by things that aren't coaching related.
One of my favorite stories he shares is his fondness for Lambeau Field in Green Bay, WI. In the 80's he and his Vikings teammates would arrive at the stadium before the game and go out to grab some brats from the tailgating crowd. After the game they would go back out there, grab more food and maybe some schnapps before getting on the bus.
But by far the best story from Coach Mularkey involves fantasy football and a Christmas present he bought for his wife when he was coaching with the Buffalo Bills. Listen to the podcast to hear this story and why cheeseburgers may be the Titans' ultimate weapon this season.
Author Heikki Larsen is the Production Coordinator for the Jimmy Buffett Tour and the writer and producer of Margaritaville's Coconut Podcast.